Planning to remove a tree? 
Step 1: Get Approval 
If it's a hardwood tree over 12 inches in diameter at chest level, contact Contact the CSCA's designated tree representatives, at CSCATree@gmail.com.
The committee will consider your request in light of the following factors, based on a recent survey of residents: 
Safety and prevention of damage to people or property
Screening or privacy
Tree canopy conservation
Lawn and garden preservation
Once the committee approves a removal, you can display an approval sign in your yard. It makes a positive statement that you respect the community covenants, your neighbors, and the beauty of our neighborhood.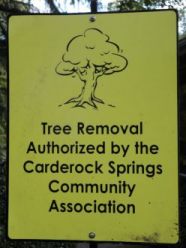 Step 2: Hire a licensed arborist 
Be sure the tree professional you hire is a Maryland licensed arborist.  It's required under Maryland law. Be wary of tree workers who knock on your door. They may not be licensed in Maryland, or even be tree experts.
You can check the "Tree Service" listings in our neighborhood recommendations service to find tree professionals recommended by other Carderock residents. Download the recommendations list. 
You can also check the online directory of the Maryland Arborists Association. Visit the directory. 
Lastly, please remember that cutting down trees affects the look and feel of the neighborhood for all homeowners—not just the person on whose lot they grow. Many residents feel strongly about tree preservation. It's particularly important to talk with the neighbors whose property has views of any trees you want to remove. The courtesy you show will come back to you in the future.