Contractors and Services Recommended by Your Neighbors
Planning to improve your home? We can help. 
Any outside modification or additions to the structures on a lot must be reviewed and approved in advance by the Architectural Review Committee (ARC).  
These may include, but are not limited to:
Additions
External alterations
Exterior painting
Fencing
Sheds and other structures
Learn about our Architectural Review process. 
Learn about the Covenants that control development in the neighborhood. 
Learn about hardwood tree removal. 
See contractor and services recommendations from Carderock residents
Planning to remove a tree? 
Carderock's designation as an Historic District is partly due to the way the homes are placed in the landscape, a style known as "Situated Modernism."
Our natural setting and canopy of mature trees are not only sources of pride and beauty in our community. They're resources we're committed to protect.    
In many cases, tree removal is acceptable in Carderock Springs. But our covenants require approval, by a representative of the Carderock Springs Citizens Association, before removing certain trees. 
See what to do if you plan to remove a tree. 
Landscaping ideas
 - Use native plants which attract birds, pollinators and are deer resistant.
- Use RainScape techniques with native plants for erosion control and/or to reduce flooding.
- Ditch your water-hogging lawn and create a drought-tolerant yard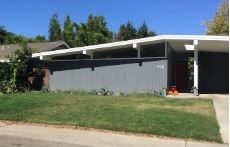 Yard grass Before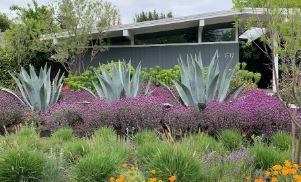 Drought-resistant yard landscaping After
Carderock Mailboxes
Looking to replace your mailbox? Longtime Carderock resident Sonja Fogle created the handsome wooden design you find all over the neighborhood in 1987. It's beautiful, durable, vandalism-resistant, and easy to build if you're handy (or to hand off to a handyperson if you're not). It's a perfect match with Carderock's clean modern design and natural setting. See the plans.  (Courtesy resident Gunnar Tomasson.)
Blinking or malfunctioning streetlights? 
The county has completed replacement and "fine tuning" of Carderock Springs streetlights. Some still have problems. If a light is out, dim, blinking erratically, on all day, or damaged, you can submit a work order with the county online at this website or call 311 between 7 am and 7 pm. You'll need to report the street address, the number on the pole, and the nature of the problem.