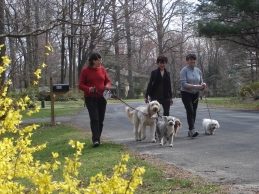 The Carderock Springs Citizens' Association (CSCA) includes residents from over 400 homes built in the 1960's style of "situated modernism," where the built environment is integrated into the natural landscape. The developer, Edmund Bennett, is widely known for his modern communities that preserve the natural surroundings.  

Every lot in Carderock Springs is subject to legally binding covenants running with the land. One purpose of these covenants is to maintain the community's architectural integrity.

CSCA committees devoted to preserving the community's design heritage include the Architectural Review Committee (ARC), which reviews additions and exterior modifications to homes in the community such as fencing, sheds, exterior color schemes, and removal of live hardwood trees. The ARC meets on the first Wednesday of the month.
The Board of Directors also meets monthly to plan and discuss community activities such as the upkeep of common areas, production of the neighborhood newsletters and directory, and the needs of various groups in the community.  
Carderock Springs Historic Status
In 2009 the neighborhood was officially listed on the National Park Service's National Register of Historic Places as a prime example of situated modernism.

The nomination process began in 2004 when the Maryland Historic Trust (MHT) asked two University of Maryland professors to document "modernism" in Montgomery County.  Their 2005 report formed the basis for the nomination. Since then, the Trust has worked to further document the nomination. You can see the Maryland Historic Trust's page on Carderock Springs here. 

Inclusion in the National Register is an honor for the community. It doesn't place any additional constraints on actions owners may wish to take to alter their homes.  Carderock's covenants requiring Architectural Review Committee approval remain the means for preserving the architectural integrity of the community. 
The Carderock Springs Design Guidelines assist homeowners and their design team in making decisions that facilitate the design process.
See our resources for those planning renovations or additions. 
Note: The CSCA is not the Carderock Swim & Tennis Club — the clubhouse, pools, tennis courts, and surrounding facilities. Membership in CSCA doesn't include membership in the club. Visit the Swim & Tennis Club website.