Planning to remove a tree? 
Trees requiring approval before removal include any mature hardwood tree 9 inches or more in diameter measured at shoulder height, unless dead or diseased.
Hardwood trees are mostly deciduous, loosing their leaves annually, but can also include some evergreens such as holly trees. Most evergreens such as pines and cedars do not need CSCA approval before being removed.
Under Maryland law, all tree work must be done by a Maryland Licensed Tree Expert.
The 2-step process includes obtaining approval from the Tree Committee then hiring a Maryland Licensed Tree Expert.
Step 1: The Approval Process
What trees require approval?
Trees requiring approval before removal include any hardwood tree of 9 inches or more diameter at shoulder height – on an original Bennett Carderock property – unless dead or in an emergency situation, i.e., in immediate danger of falling on the house or other personal property or endangering personal safety.  
"Hardwood" trees are mostly deciduous, including oak, maple, tulip poplar and cherry, but also include some evergreens, such as holly and boxwood. If you are not sure whether the tree is a hardwood, please contact the Tree Committee at CSCATree@gmail.com .
Requesting approval
The homeowner must contact the Tree Committee, CSCATree@gmail.com, for approval to remove the tree.
The Tree Committee will seek information as to the reasons for removal, the tree's species, whether a certified arborist has been consulted and other pertinent information. 
The Tree Committee will offer a standard request form that the homeowner may complete and submit.
Tree Committee Evaluation and Determination
After the information has been submitted, the Committee will arrange a site visit to evaluate the situation.
If the Committee determines that the tree is unsound, e.g., 50% or more of the tree has obvious signs of disease or an arborist determines that it cannot be saved, you may remove it.
If a tree seems sick or weak, a certified arborist or the Tree Committee may be able to recommend solutions other than cutting the tree down.
If the tree is sound, or can be treated for a minor disease or pruned, the Tree Committee will determine whether it is practicable to preserve the tree based on various factors, including safety, tree canopy conservation, screening or privacy, tree health, effect on neighbors and costs.
If the Committee approves removal of a sound hardwood tree, it will generally condition the removal on planting a new hardwood tree. The Tree Committee can help you with potential selections, if needed.
Once the Committee approves a removal, CSCA requests that you display an approval sign in your yard.  It makes a positive statement that you respect the community covenants, your neighbors, and the beauty of our neighborhood.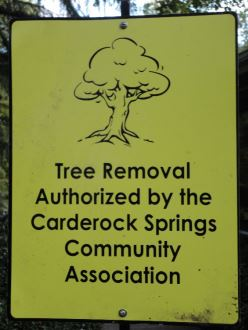 Step 2: Hire a Maryland Licensed Tree Expert 
Be sure the tree professional you hire to remove a tree is a Maryland Licensed Tree Expert (MLTE) as required under Maryland law. Be wary of tree workers who knock on your door. They may not be licensed in Maryland or lack the appropriate safety training.
You can check the "Tree Service" listings in our neighborhood Contractor and Services Recommendations list to find tree professionals recommended by other Carderock residents.  Please note that an MLTE is essentially a safety designation; an MLTE is different from an arborist who is specifically trained to diagnose and treat tree conditions. 
You can also check the online directory of the Maryland Arborists Association. Visit the directory. 
Lastly, please remember that cutting down trees affects the look and feel of the neighborhood for all homeowners – not just the person on whose lot they grow. Many residents feel strongly about tree preservation. It's particularly important to talk with the neighbors whose property has views of any trees you want to remove. The courtesy you show will come back to you in the future.