Complete the survey (the link above is the preferred method) or if you can print this form and email/snail mail your response.
Planning to remove a tree? 
Trees requiring approval before removal include any mature hardwood tree over 12 inches in diameter (measured at chest level), unless dead or diseased.
A hardwood is a broadleaved tree that loses its leaves in autumn, such as the oak, beech, or maple. A softwood tree, which may be cut down without approval, is an evergreen like a pine or cedar. 
Under Maryland law, all tree work must be done by a Maryland Licensed Tree Expert.
Dead or diseased trees: 
Please consult with a tree expert to confirm that a tree is diseased or dead before removing it.
Generally, a tree is dead when it has lost the ability to bear leaves. 
A diseased tree is one where 50% or more of the tree exhibits obvious sign of disease, or which a licensed arborist determines cannot be saved. 
If a tree seems sick or weak, a tree expert may be able to recommend solutions other than cutting the tree down. 
Step 1: Get Approval 
Contact the CSCA's designated tree representatives, at CSCATree@gmail.com.
The committee will consider your request in light of the following factors, based on a recent survey of residents: 
Safety and prevention of damage to people or property
Screening or privacy
Tree canopy conservation
Lawn and garden preservation
Once the committee approves a removal, you can display an approval sign in your yard. It makes a positive statement that you respect the community covenants, your neighbors, and the beauty of our neighborhood.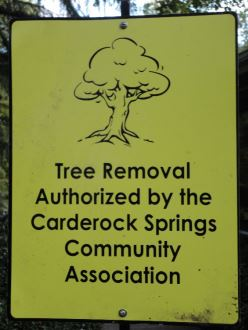 Step 2: Hire a Licensed Tree Expert 
Be sure the tree professional you hire is a Maryland licensed Tree Expert as required under Maryland law. Be wary of tree workers who knock on your door. They may not be licensed in Maryland, or even be tree experts.
You can check the "Tree Service" listings in our neighborhood recommendations service to find tree professionals recommended by other Carderock residents. Download the recommendations list. 
You can also check the online directory of the Maryland Arborists Association. Visit the directory. 
Lastly, please remember that cutting down trees affects the look and feel of the neighborhood for all homeowners—not just the person on whose lot they grow. Many residents feel strongly about tree preservation. It's particularly important to talk with the neighbors whose property has views of any trees you want to remove. The courtesy you show will come back to you in the future.